As customers shifted their spending online during 2020, global retail e-commerce grew 26% to $4.2 trillion, while retail e-commerce penetration expanded from 14% to 18%, with two-thirds of customers stating they have altered their shopping patterns. In 2022, worldwide eCommerce sales are expected to comfortably pass $5 trillion.
Less obvious to casual observers, businesses made structural investments that would be difficult to reverse. From launching online storefronts, investing in their digital footprints and expanding distribution capabilities to reliably fulfil online orders, these investments have helped reinforce customer preferences for e-commerce channels.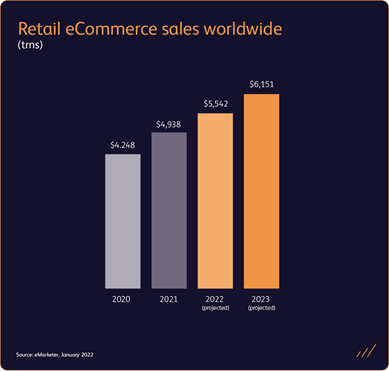 eMarketer, Global eCommerce Forecast 2022, February 2022
Growing channel complexity
More than half of customers engage with three-to-five channels to make a purchase. They want flexibility with respect to where and when they search, shop and purchase and expect seamless integration between all channels where they interact with a brand or retailer.
As a result, multi- or omni-channel strategies now include diverse channels such as websites, mobile apps, and social networks, as well as product listings held with retailers, distributors and marketplaces.
While this expansion creates endless possibilities for brands and retailers, it also creates increasingly complex management of customer experience and purchasing journeys.
Competition for product transparency
At the same time, the competitive stakes are rising, as online customers can more easily discover the ever growing list of brands and retailers. A major arena where this is playing out is on a product's display page.
The display page has become the storefront, sales assistant and community-space for opinion-sharing. There are an average of 200 attributes per online SKU and such content has become a further driver of e-commerce adoption. More than 60% of US shoppers prefer online retail due to the availability of product information.
Put simply, the capability to differentiate products 'on the digital shelf' by offering accurate and relevant product content drives traffic and increases conversions. This capability is a major strategic asset.
Product content in a multi-channel world
Product content is an example of where omni-channel complexity kicks in, because, whatever you – the brand or the retailer – advertise, it must be done seamlessly and consistently across proprietary and third-party platforms.
Product content must have detailed descriptions, images, ratings, reviews, and user-generated content, but it also needs to be channel specific (e.g., Amazon marketplace vs. Instagram Product content must have detailed descriptions, images, ratings, reviews, and user-generated content, but it also needs to be channel specific (e.g., Amazon marketplace vs. Instagram advert), fit for various form factors (e.g., desktop vs. mobile site vs. mobile app), meet all data requirements and be nimble for future updates.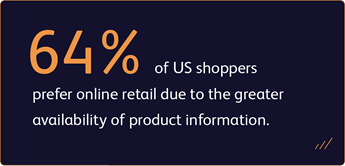 In the past…
Companies relied on spreadsheets, enterprise resource planning software and master documents to handle product data. These legacy solutions used pre-defined taxonomies that limited the breadth and quality of product information that can be distributed. This forced marketing, e-commerce and product teams to manually create channel-specific versions of product content, leading to inconsistency, operational complexity and inefficiency. A solution that provides multiple versions of product content, adapted for each channel, with synchronized master data, would solve a very big problem.
Meet future...
Enter Salsify, one of the latest investments by Permira Growth Opportunities. Salsify is a comprehensive platform for brands, retailers and everyone in-between to optimise product content, reduce friction in product dataflow, improve speed-to-market and grow revenue. The platform's intuitive interface empowers everyone involved in getting products to market.
It relieves a variety of teams across an organization from repetitive manual processes by taking product data from both internal and external sources, cleansing and validating information and streamlining workflow and distribution.
Salsify serves over 1,200 customers including Coca-Cola, Mars, Kraft Heinz and Unilever, helping 30K+ users upload 10M+ products with 100M+ workflow tasks.
The more we engaged with Salsify and spent time with co-founder and CEO, Jason Purcell, the more excited we became in backing this world-class, product and customer-centric team.
E-commerce enablement and infrastructure is a core investment theme for us, and Salsify joins other leaders in the funds' portfolio including CommentSold, FullStory, Magento, Mirakl, mParticle and Informatica.
We are thrilled to welcome Salsify to the Permira family and to join the next phase of their growth journey.