Tilney Smith & Williamson, which will be rebranding as Evelyn Partners in the summer, is pleased to announce a trading update for the three months ended 31 March 2022.
Highlights
Group operating income in Q1 of £146.9 million was up 9.3% compared to the same period last year (Q1 2021: £134.3 million), driven by increased assets under management year-on-year, as well as excellent performance by the Professional Services business.
Gross new business inflows of £1.4 billion in the first quarter (Q1 2021: £1.7 billion), equivalent to 9.7% of opening assets on an annualised basis.
Net new business inflows of £0.5 billion in the first quarter (Q1 2021: £0.5 billion), equivalent to 3.2% of opening assets on an annualised basis.
Assets under Management (AUM) of £55.8 billion at 31 March 2022 (31 March 2021: £51.6 billion) reflecting more challenging recent market conditions (31 December 2021: £57.7 billion).
Chris Woodhouse, Group Chief Executive, commented:
"The business has continued to perform well despite a more challenging market backdrop, with excellent performance across our Financial Services and Professional Services businesses. We reported a small dip in AUM in the first three months to £55.8 billion as a result of tougher market conditions, with global equities, as measured by the MSCI World Index, declining 5.5% over the quarter. However, net organic inflows remained positive and consistent with last year at £0.5 billion, equivalent to 3.2% of opening assets on an annualised basis. Group operating income grew 9.3% compared to Q1 last year, with a particularly strong performance from our Professional Services business.
"Earlier this year we announced the consolidation of our brands under a new name – Evelyn Partners. The reception from clients and employees has been very positive, and we remain on track to move to the new brand in the summer. Ahead of this, we have also just completed our move into our new headquarters at 45 Gresham Street in the heart of the City of London.
"In the period, we also announced plans for the relaunch of Bestinvest as a hybrid digital service combining free investment coaching with best-in-class goal planning and analytical tools, alongside an extensive choice of investments including a suite of highly competitively priced ready-made portfolios. The new Bestinvest went live last week. We regard this as a great example of putting our purpose – 'to place the power of good advice into more hands' – into practice, giving more people an opportunity to receive the support they need to achieve their financial goals, at great value for money.
"Last autumn, as part of our ongoing growth strategy, we launched a succession programme to give financial advisers who have built their own businesses and are approaching retirement an opportunity to find a new long-term home for their clients.  We have a very strong pipeline of interest in the programme and yesterday were pleased to announce that the teams from Edinburgh based Capital Risk Management and MP2 Financial have joined the group.
"I'd like to thank colleagues across the group for their continued efforts to deliver for our clients and the support provided to them during a period of market volatility and economic uncertainty. The continued positive new inflows we have seen against the backdrop of recent market turbulence are a testament to the strength of our advice-led model and the value that clients place on sound professional advice and a well-managed investment strategy.
"We have a clear and differentiated strategy in place as a combined business and are achieving strong growth momentum across both our Financial Services and Professional Services businesses.  I am very confident in our positioning to capitalise on the significant market opportunities ahead."
Assets under management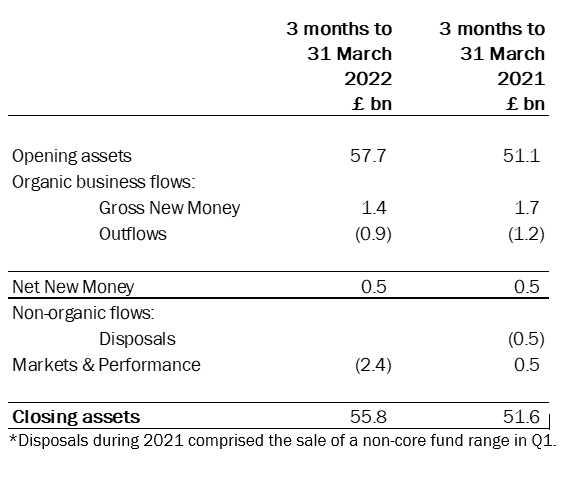 Operating income – segmental breakdown